Pallet Truck Training Courses
At HL Training, our team of accredited forklift instructors provide a range of pallet truck training courses. We deliver the highest standard of training to enable you to use pallet trucks safely and effectively. We also provide a full range of forklift operator training.
Benefits of Pallet Trucks
The main benefits of these trucks are that they are cheaper to buy and maintain than standard Counterbalance Forklift or Reach Trucks and use considerably less space within the working environment than alternative pallet truck types.
Additionally, as per the below course timings, they take a lot less time to train candidates due to the simplicity of the pallet truck.
Operator Training For All Pallet Trucks
Pallet trucks cover various ABA Categories and include pedestrian pallet trucks or rider pallet trucks. In addition, they can be Manual, Semi Manual or Electric. There are also instances where they have a fold-down platform for use when moving from A to B within the working environment. At HL, we can provide pallet truck training on all categories of pallet trucks and cover all makes and models.
Types of pallet trucks
A1 – Pallet; stillage; low lift platform & low lift order picking trucks (Pedestrian Operated)
A2 – Pallet; stillage; low lift platform & low lift order picking trucks (Rider Operated)
Z1 – Manual/Semi-Manual Pallet Trucks
Z2 – Manual/Semi-Manual Platform truck (inc. Fixed Type)
These are the categories agreed upon between all ABA members, and new course testing criteria were released in 2019 with an improved standard for Pre Use Checks, Practical Testing and Theory Tests.
Pallet Truck Training Courses and Timings
Course timings are based on a 3:1 candidate-to-instructor ratio.
Our pedestrian and manual pallet truck training courses are available at 3 levels:
Novice – 1 or 2 Days Depending on accrediting body & truck type
Experienced/Existing Operator – 1 Day
Refresher Training – 1 Day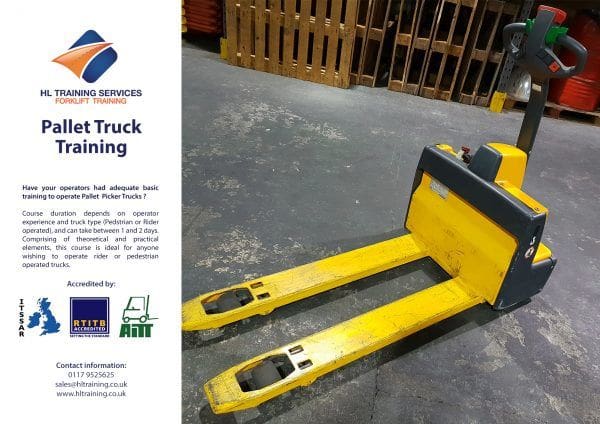 What Do Our Pallet Truck Courses Include?
Our pallet truck courses are comprehensive and cover many topics, including (but not limited to):
Regulations and legislation (including LOLER 1998, PUWER 1998, and HASAWA 1974)

Introduction to pallet trucks

Capacity Plates

Stability

Handling laden/unladen loads

Loading docks

Working within racking

and much more.
Sign Up For Accredited Pallet Truck Operator Training
There's no one better than the HL team for first-rate pallet truck training delivered by accredited instructors. We have courses for all pallet truck types and can provide a training solution designed for your experience level. Sign up for a course today and become an accredited pallet truck operator.
Pallet Truck Course FAQs
How are pallet truck courses assessed?
All of our pallet truck courses are assessed through theoretical and practical tests and a pre-use check. These are mandatory testing elements. To successfully complete the course, you must pass all three assessment elements.
What will I receive upon completing a pallet truck operator course?
After completing a pallet truck course, you will receive a certification (and a photo ID card will be available). Your certificate will be accredited by your chosen accrediting body (ITSSAR, RTITB, or AITT). ID cards are also available but may incur additional costs depending on your course.
Do I need a license to operate a pallet truck?
Operating a pallet truck does not require a license. The accredited certificate earned from successfully completing a course is a legal document and allows you to operate a pallet truck.