HL Training Services provides accredited operator and instructor training for Lorry Mounted Cranes. Each of our HIAB training courses is accredited by one of three industry-recognised accrediting bodies; ITSSAR, AITT, and RTITB. We are proud to deliver our HIAB training courses from our Bristol training facility, which is designed to meet the high standards of our accrediting bodies. We deliver training on-site at customer locations nationwide. 
Accredited Lorry Loader with Remote Control Training 
Our HIAB operator training course has a comprehensive syllabus designed to fully prepare you to safely and effectively operate lorry loader trucks. Each of our accredited HIAB operator training course covers:
Pre-use checks
HSE regulations
Employer and employee responsibilities
LOLER 
PUWER
Safe working practices
Slinging
Our in-centre HIAB courses also offer training on HIAB attachments. Attachment training covers rotating brick grab and hook, as well as remote/radio control.
Each HIAB training course is assessed through a combination of theory and practical examination.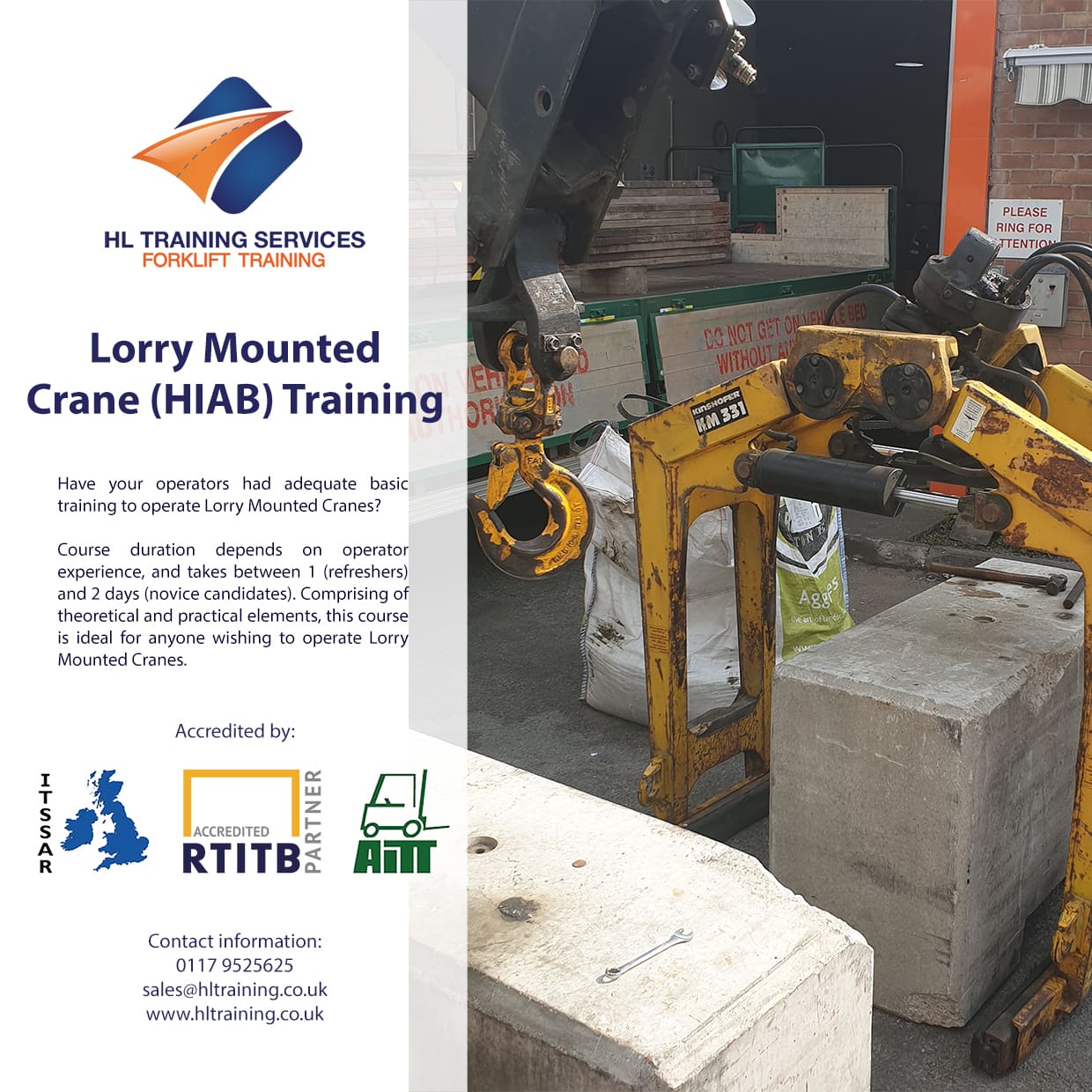 HIAB Course Timings:
We provide Lorry Mounted Crane and Vehicle Hydraulic Loader training, including one-day refresher courses and longer novice courses for less experienced operators. Each course accommodates up to three trainees. 
ITSSAR and AITT Lorry Mounted Crane
Lorry Mounted Crane 1 Day refresher up to 3 trainees
Lorry Mounted Crane 2 Day novice up to 3 trainees
RTITB Vehicle Hydraulic Loader
Lorry Mounted Crane 1 Day refresher up to 3 trainees
Lorry Mounted Crane 3 Day novice up to 3 trainees
HIAB Training Certifications
Each course is accredited by a recognised industry accrediting body (ITSSAR, AITT or RTITB). Upon successfully completing the HIAB training course, you will receive a nationally recognised accredited certificate from the relevant accreditor.
HIAB Training (Lorry Mounted Crane) Course Dates:
Course Name
Date
Time
Course Location
Delegate Price
Delegate Fees
Quantity
Places Left
Book

15/01/24

i

15/01/2024 08:30 – 16:00

08:30

–

16:00

HL Training Centre
£200.00
£15

3

25/01/24

–

26/01/24

i

25/01/2024 08:30 – 16:00

26/01/2024 08:30 – 16:00

08:30

–

16:00

HL Training Centre
£400.00
£15

2
Why Choose HL Training for Loader Crane Training
Our accredited lifting equipment courses are delivered by experienced trainers. Not only are you accessing a robust syllabus designed to teach you all the necessary knowledge and skills, but the material is delivered expertly by training providers who understand how to get the most from their students. For those on a loader crane instructor training, this means you get to experience first-hand how a professional course provider conducts training. 
With HL Training, you can trust you are in safe hands. We are a team of experienced accredited trainers working to help you achieve your career aspirations and uphold the highest safety standards. Upskill yourself and unlock new avenues for you and your business – add HIAB trucks to your repertoire with accredited courses from HL Training.
HIAB Operator Training FAQs
Can I Check That The Training Is Accredited?
Each accrediting body we work with offers a way to check that our training has been registered with them. ITSSAR provide a TOPS number and RTITB have a NORS number. You can check these numbers are correct on their respective website. AITT also provide an ACORNS number. However, you can't check numbers on their website, you will need to email them to confirm.
What Do I Receive Upon Completing A HIAB Course?
Upon successfully completing our HIAB operator training, you will receive a certification from the appropriate accrediting body. For ITSSAR and AITT-accredited training, we create a certificate within our CRM. This is accompanied by an ID card and is included in the quoted fee.
For RTITB courses, RTITB produces the certificate themselves. ID cards are also available but require an additional cost to the quoted price of the course.