We have now been established over 30 years, and have always maintained a high standard training centre. Since moving to Barton Hill in 2014, we have invested to improve the venue to maintain the high standard – however a huge part of maintaining a high standard of training come downs to the the equipment used to provide the training. 
We have invested in a new VNA Man Up Truck, we have added to our Counterbalance fleet, we have purchased a new Pallet Stacker truck and aquired a Rider Operated Pallet Truck. But thats not all, we have upgraded our Lorry Loader crane to include Remote Control, and most recently upgrading our very trusting, but tired Linde R16 for a Yale Reach Truck, in our company colours.
See below our currently fleet below, or most of it anyway;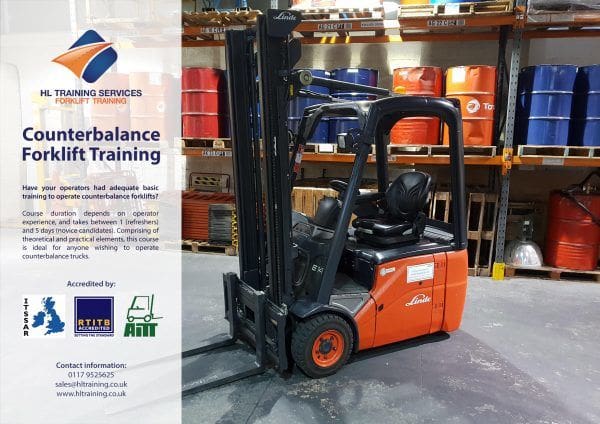 B1 Counterbalance Forklift, Up to and Including 5t
Counterbalance Forklifts are the most common type of forklift we are asked to train on. The name is derived from the fact a counterbalance truck has a counterwieght to the rear which is designed to compensate for the heavy loads it lifts on the forks to the front of the truck.
We have 4 at our training centre. We have one Linde Counterbalance Forklift, Two Junghienrich Counterbalance Trucks and our ORIGINAL Forklift – the Hyster 30 Counterbalance.
We also run our Instructor Training Courses with Counterbalance Forklifts. 
D1 Reach Truck, up to and including 8 meter lift
Reach Trucks are best used inside, typically in warehouse environments. The name comes from its ability to reach into racking, making it an ideal solution where a counterbalanced trucks it too large for its aisle. 
Our truck fits into the D1 category Yale with 360 steering, which is up to and including 8 meter lift. We can also train on D2 (above 8m lift) at customers locations. 
Our Yale truck was purchased in December 2019, and is the first truck we have had painted in HL Training colours.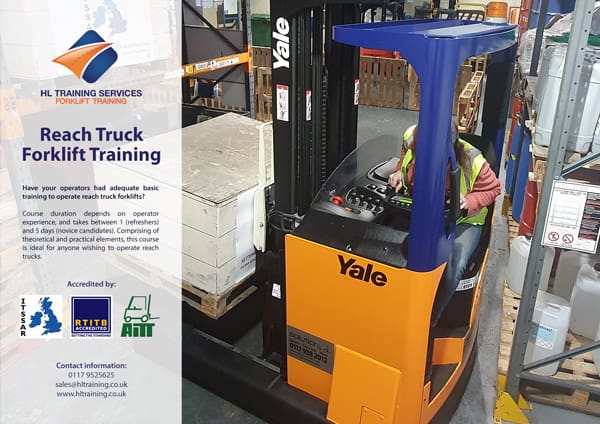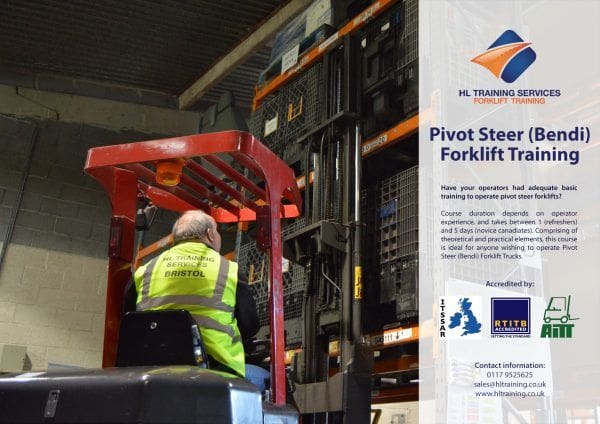 P1 Pivot Steer – Bendi – Forklift Truck (Rider Operated)
Pivot Steer trucks are quite commonly miss-referenced as bendi or flexi trucks.  This is due to the simply fact the truck bends or flexes and is designed to working in narrow aisles or environments. 
Our pivot steer truck is rider operated, and is a P1 ABA Category truck. P2 is for pedestrian operated pivot steer trucks.
One of the most common manufacturers of pivot steer trucks are a company called Bendi, another is Aisle Master. These make up the majority of the pivot steer forklift range.
Pivot Steer Forklift and Reach Trucks are designed for more narrow ailses, which can increase the amount of racking within a limited warehouse environment.
A1 Pedestrian Pallet Truck & A2 Rider Operated Low Level Order Picker
Pallet Trucks and Low Level Order Picker trucks are trucks whereby there is a common misconception that you do not require training to operate. The truth is if the truck is used to lift a load, then you need to ensure you have received adequate basic training. 
These trucks do NOT require a LOLER Inspection, however they still require a thorough examination under PUWER 1998.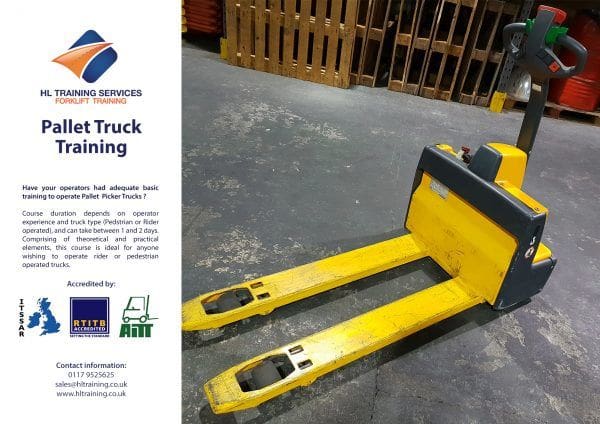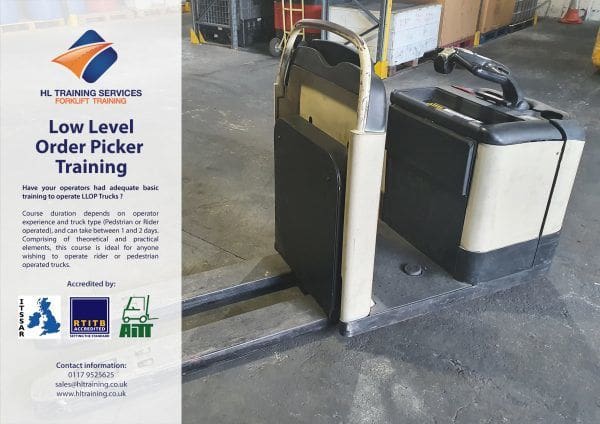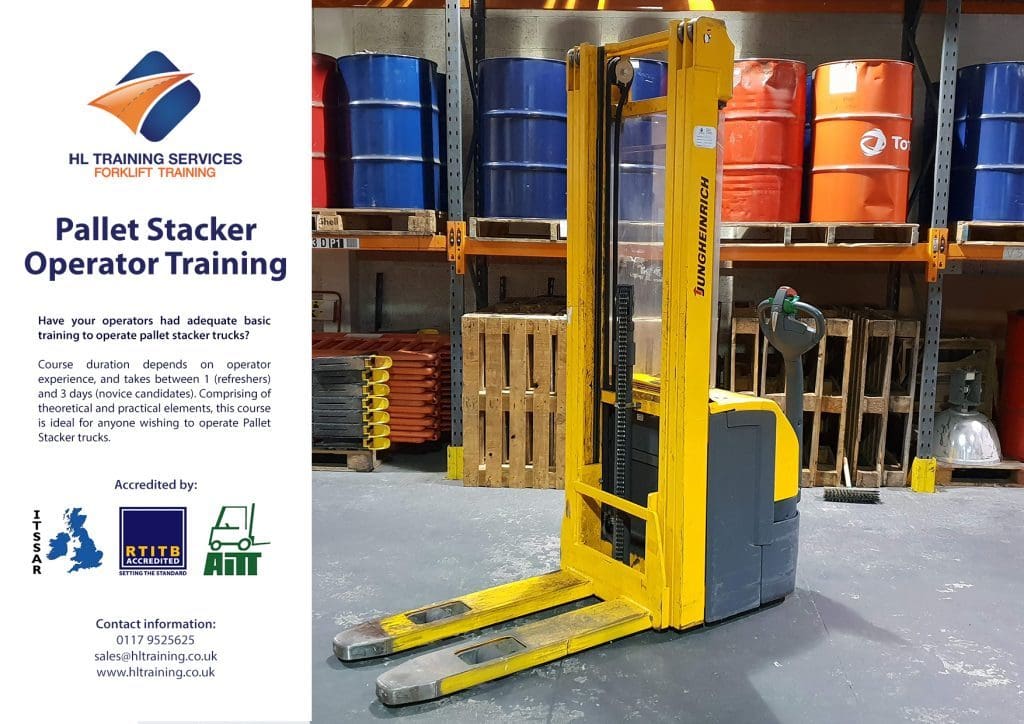 A5 Pedestrian Pallet Stacker Truck
We have Jungheinrich Stacker truck which is electric and is designed for warehouse use with smooth flooring.
These allow the user to complete all tasks that an A1 or A2 Pallet Truck is capable of, but can also be used to stack and destack from height. Typically, these would be used and a cheaper alternative to a Counterbalance or Reach Truck.
This Pedestrian Operated Stacker truck can take anywhere between 1 and 3 days, depending on the candidates operating experience.
F1 Very Narrow Aisle (VNA) Operator Up Forklift
Very Narrow Aisle (VNA) – Man Up Order Picker trucks have various ways of operating. They can have a rigid or articulated body and are mainly used for order picking at medium or high levels. 
They can operate in two ways. Whilst in the aisle they are locked in – so they cannot be steered by the operator. When outside of the racking, this can be switched off, so that the operator can move the load to a different location.
Our truck is a wire guided man up (or operator up) truck, however some are designed with a rail guided system. Additionally, there is a less common version of this truck, whereby the operator does NOT rise in the cab with the forks. This is called a Man Down truck.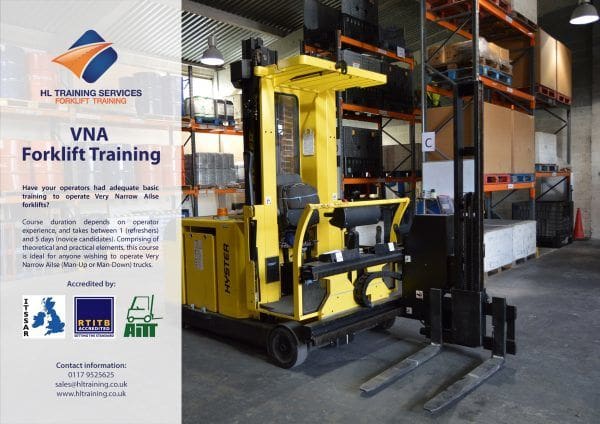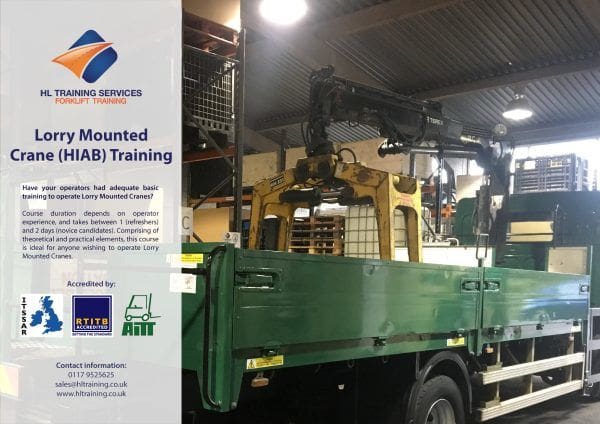 A Lorry Loader is a crane on the back of a Lorry for delivering of goods to site. We have always had Lorries to provide this training, but in 2018 we invested in a ex Travis Perkins lorry (hence the colour) as our existing lorry did not have remote control.
We are now widely known as one of a few companies within the South West of England who can offer training on a Lorry Loader with Remote Control.
In additional, we have Brick Grab, Hook and Strops so we can also offer Slinging of Loads and signalling techniques using our Lorry. There is a slinger signaller course which would cover these requirements.