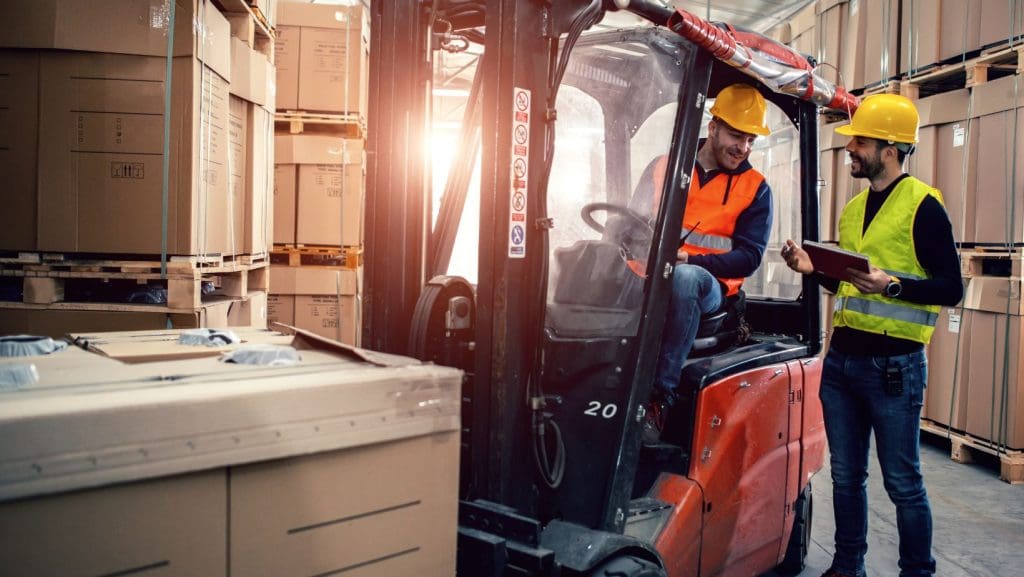 Are you a forklift operator exploring your next career step? Or a business owner assessing the merits of in-house forklift training? At HL Training, we're here to guide you through becoming a certified forklift instructor. In this guide, we'll explore the role of a forklift instructor and why it might be right for you or your business. We also delve into the essential skills needed for success in this role and outline the necessary training and requirements.
In this guide:
What is a forklift instructor?
A forklift instructor is a certified professional responsible for training and educating individuals in the safe and efficient operation of forklifts. Their role is pivotal in promoting workplace safety, ensuring compliance with industry regulations, and improving overall productivity.
Instructors are well-versed in forklift principles, teaching learners how to operate these powerful machines with precision. They create and deliver comprehensive training programs that cover everything from the fundamentals of forklift operations to advanced handling techniques.
A significant part of their role involves assessing and evaluating trainees to identify areas needing improvement and providing constructive feedback. They also design lesson plans, conduct classroom and practical sessions, and administer both written and practical examinations.
Forklift instructors play a critical role in shaping competent forklift operators who can navigate various challenges in warehouse, construction, and logistics environments. Ultimately, their mission is to ensure that all forklift operators are well-trained, safety-conscious, and capable of performing their duties effectively, reducing workplace accidents and enhancing overall operational efficiency.
Why become a forklift instructor
Accredited forklift instructor
Are you a talented forklift operator looking for your next career step?
Becoming an accredited forklift instructor offers a fulfilling and secure career path. It allows you to share your expertise, enhance workplace safety, and contribute to a smoother, more efficient operation. In this role, you'll not only deepen your own knowledge and skills but also enjoy the satisfaction of mentoring others. Moreover, the demand for qualified forklift instructors remains consistently high across various industries, ensuring long-term job stability. It's a profession that combines personal growth with the opportunity to make a meaningful impact on workplace safety and productivity.
In-house forklift instructor
While hiring external forklift operator training services is an excellent option, there are solid reasons for businesses to consider in-house training. Accredited forklift operator training equips your team to handle various manual handling challenges, but the training costs can accumulate over time. Once your need for operator training reaches a certain scale or frequency, having an in-house forklift operator trainer can become a cost-effective choice. However, you will need to train forklift trainers to deliver in-house training. The initial investment in forklift instructor training can yield substantial savings in the long run, particularly if there's a consistent demand within your organisation for forklift operator training.
In short, investing in forklift instructor training can save you money on forklift operator training in the future.
Who is a good candidate for forklift instructor training?
While a forklift instructor certainly needs a high level of operating ability with the specific category of lift truck they will train on, expertise in operating alone is insufficient for becoming a forklift instructor. Proficiency as a forklift operator is a fundamental requirement, but not all skilled operators can effectively transition into the role of a trainer. To be a strong candidate for providing forklift training, individuals should possess a range of additional skills and traits, including:
Strong Communication Skills: Forklift instructors must excel in precise communication, as they need to convey technical information to individuals with varying levels of experience and skill. Effective communication is crucial in this role.
Analytical Skills: These skills are vital for assessing candidates and identifying areas where additional support is needed to close skill gaps on an individual basis.
Good Literacy Skills: Whether it's creating written lesson plans, composing progress reports for candidates, or delving into written reports and informational materials, forklift instructors regularly rely on their literacy skills.
Presentation Skills: Forklift instructors should feel comfortable presenting in diverse settings, including classrooms and work environments. They must also be capable of delivering both theoretical and practical lessons effectively.
In essence, being a forklift trainer entails more than just technical expertise; it demands a well-rounded skill set that encompasses communication, analysis, literacy, and presentation abilities to effectively educate and assess forklift operators.
Forklift instructor prerequisites: Forklift operator training
To become a forklift instructor you will need to undergo and successfully pass forklift instructor training. These training courses have prerequisites and require a level of operator proficiency with the type of forklift you intend to instruct on. You must have earned or refreshed your basic operator training certificate for the relevant truck type within 6 months of your instructor training course start date. If you have a basic operator certificate for another truck type you may undertake a conversion course to meet the instructor training requirements.
Forklift instructor training
Accredited forklift instructor training
After obtaining your basic training certificate, the next step is enrolling in an accredited forklift instructor course. A comprehensive course will delve into the fundamental principles of forklift truck operations and industry codes of practice. It will equip you with the essential skills required for the instructional aspect of the role, too. Throughout the course, you'll gain insights into various teaching methods, lesson types, and the creation of lesson plans for both classroom and practical settings. Additionally, you'll cover instructional techniques, skills assessment, and ongoing evaluation processes.
In-house forklift instructor training
For in-house instructor roles there are non-accredited in-house forklift instructor training courses available. Thi si the perfect training for those wishing to train company employees and issue in-house certificates. Our in-house instructor training for example will prepare you to conduct in-house training and skills assessments. To enrol on HL Training's in-house forklift instructor training you must:
Be a certified counterbalance or reach truck operator (dated within 12 months of the course start date)
And
Have 6 months operating experience
Forklift Instructor FAQs
What qualifications do I need to become a forklift instructor?
To become an accredited forklift instructor you must complete an accredited forklift instructor course. You must hold a basic operator certificate for the relevant truck type to enrol into an accredited instructor training.
What basic operator certificate do I need for instructor training?
Our forklift instructors course is based on instructing on a counterbalance forklift truck therefore you must hold a basic operator certificate for counterbalance forklifts to enrol. If you have completed operator training for a different truck type, you can complete a conversion course to meet the instructor training prerequisites.
Do I need to complete separate instructor training for each forklift truck type?
No, our accredited forklift instructor training course enables you to instruct on any machine you hold certificates for including certificates earned after completing the course.
Become a forklift instructor with HL Training
Ready to become an accredited forklift instructor? HL Training offers top-tier 10-day instructor training programs accredited by ITSSAR, AITT, and RTITB. Our forklift instructor training courses equip you with the expertise to excel in this rewarding role. You'll have the qualifications to become an accredited ITSSAR, AITT, or RTITB instructor upon completion. Or learn everything you need to know to train your own team with our non-accredited in-house forklift instructor training.
To find out more, get in touch with our expert forklift training team. Give us a call today!
Learn more about forklift training
Learn even more about forklift training with our other fantastic guides. Here are a few popular reads you might be interested in: